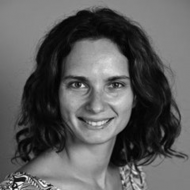 Appointment
Canada CIFAR AI Chair
Lebovic Fellow
Child & Brain Development
Pan-Canadian AI Strategy
About
Anna Goldenberg is a Lebovic Fellow in CIFAR's Child & Brain Development program, and a Canada CIFAR AI Chair at the Vector Institute. She is an associate professor at the department of computer science at the University of Toronto with a cross appointment in the department of statistics. She is a senior scientist in the genetics and genome biology program at SickKids Research Institute. She is a Varma Family Chair in Biomedical Informatics and Artificial Intelligence at the Sick Kids Research Institute.
Goldenberg develops machine learning methods that combine diverse sets of biological and phenotypic measurements to refine the understanding of complex human diseases, identify the best treatments and individual patient outcomes, and guide decisions to improve the quality of life for patients.
Her data integration method – Similarity Network Fusion (SNF) – was the first to integrate patient data (omics, imaging, etc.) using patient networks. It improved survival outcome predictions in five different cancers.
Awards
Varma Family Chair in Biomedical Informatics and Artificial Intelligence, 2018
Canada Research Chair in Computational Medicine, 2017
Department of Computer Science Award for exceptional mentoring and outstanding commitment to graduate student recruitment, University of Toronto, 2016
Early Researcher Award from the Ministry of Research and Innovation, 2016
Best poster presentation award at the Young Investigator Meeting, organized by the CIHR Institute of Cancer Research, 2013
Relevant Publications
Corre, C., Shinoda, G., Zhu, H., Cousminer, D. L., Crossman, C., Bellissimo, C., … & Palmert, M. R. (2016). Sex-specific regulation of weight and puberty by the Lin28/let-7 axis. The Journal of endocrinology, 228(3), 179.

Rampasek, L., & Goldenberg, A. (2016). Tensorflow: Biology's gateway to deep learning?. Cell systems, 2(1), 12-14.

Saria, S., & Goldenberg, A. (2015). Subtyping: What it is and its role in precision medicine. IEEE Intelligent Systems, 30(4), 70-75.

Colak, R., Kim, T., Kazan, H., Oh, Y., Cruz, M., Valladares-Salgado, A., … & Goldenberg, A. (2016). JBASE: joint Bayesian analysis of subphenotypes and epistasis. Bioinformatics, 32(2), 203-210.

Wang, B., Mezlini, A. M., Demir, F., Fiume, M., Tu, Z., Brudno, M., … & Goldenberg, A. (2014). Similarity network fusion for aggregating data types on a genomic scale. Nature methods, 11(3), 333.
CIFAR is a registered charitable organization supported by the governments of Canada, Alberta and Quebec, as well as foundations, individuals, corporations and Canadian and international partner organizations.