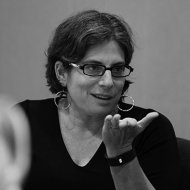 Appointment
Child & Brain Development
About
Daniela Kaufer seeks to determine the basis of human mental health problems, including post-traumatic stress disorder and depression, looking for new ways to treat and prevent them.
She mediates between the disciplines of psychology, physiology and molecular neuroscience. Research in the Kaufer lab focuses on the events that underlie the plasticity of the brain in the face of stress and neurological insults throughout life, with a particular focus on plasticity involving adult neural stem cells and across the glia-neurovascular unit. Specifically, a major project aims at studying the effects of early life stress on creating vulnerability to mental disease throughout life, with a focus on regulation and functional relevance of adult hippocampal stem cells. In this project, Kaufer's lab investigates the function of the newborn neurons and their integration into the existing circuitry of learning, memory and emotional processing. A second project aims at studying the mechanisms of epileptogenesis that follow traumatic brain injury and precede the onset of clinical epilepsy. Using rodent models, Kaufer has shown that albumin, a major component of the blood, enters the brain during blood-brain barrier dysfunction, which occurs after head injury. Albumin activates the TGF-β signalling pathway in astrocytes, triggering a regulatory cascade that modulates inflammation and neuroexcitability. She has shown that blocking albumin from binding to and activating this pathway prevents the onset of spontaneous seizures. Her lab is investigating this further, as well as translating findings towards the clinical context by investigating the efficacy of drugs that block the TGF-β receptor.
Awards
National Institute of Mental Health Director's New Innovator Award, 2010
NARSAD Young Investigator and Independent Investigator Award
Archer Award
Relevant Publications
Beery, A. K., & Kaufer, D. (2015). Stress, social behavior, and resilience: insights from rodents. Neurobiology of stress, 1, 116-127.

Chetty, S., Friedman, A. R., Taravosh-Lahn, K., Kirby, E. D., Mirescu, C., Guo, F., … & Tsai, M. K. (2014). Stress and glucocorticoids promote oligodendrogenesis in the adult hippocampus. Molecular psychiatry, 19(12), 1275-1283.

Kirby, E. D., Muroy, S. E., Sun, W. G., Covarrubias, D., Leong, M. J., Barchas, L. A., & Kaufer, D. (2013). Acute stress enhances adult rat hippocampal neurogenesis and activation of newborn neurons via secreted astrocytic FGF2. Elife, 2, e00362.
CIFAR is a registered charitable organization supported by the governments of Canada, Alberta and Quebec, as well as foundations, individuals, corporations and Canadian and international partner organizations.