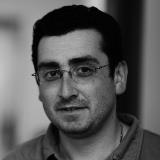 About
Leonid Sigal is a Canada CIFAR AI Chair at the Vector Institute, an associate professor in the department of computer science at the University of British Columbia, and a scientific advisor for Borealis AI.
Sigal's research interests are primarily in computer vision, machine learning, and computer graphics. His research focuses on problems of visual and multi-modal (visual, textural, auditory) understanding and reasoning, including object recognition, scene understanding, articulated motion capture, action recognition, representation learning, manifold learning, transfer learning, character, and cloth animation.
Awards
Recipient of NSERC Discovery Accelerator Supplement, 2018-2021
Best Paper Award, IEEE Winter Conference of Applications of Computer Vision, 2018
Relevant Publications
Ma, S., Sigal, L., & Sclaroff, S. (2016). Learning activity progression in lstms for activity detection and early detection. In Proceedings of the IEEE conference on computer vision and pattern recognition (pp. 1942-1950).

Raptis, M., & Sigal, L. (2013). Poselet key-framing: A model for human activity recognition. In Proceedings of the IEEE Conference on Computer Vision and Pattern Recognition (pp. 2650-2657).

Sigal, L., Balan, A. O., & Black, M. J. (2010). Humaneva: Synchronized video and motion capture dataset and baseline algorithm for evaluation of articulated human motion. International journal of computer vision, 87(1-2), 4.

Sigal, L., Bhatia, S., Roth, S., Black, M. J., & Isard, M. (2004). Tracking loose-limbed people. In Proceedings of the 2004 IEEE Computer Society Conference on Computer Vision and Pattern Recognition, 2004. CVPR 2004. (Vol. 1, pp. I-I). IEEE.
CIFAR is a registered charitable organization supported by the governments of Canada, Alberta and Quebec, as well as foundations, individuals, corporations and Canadian and international partner organizations.