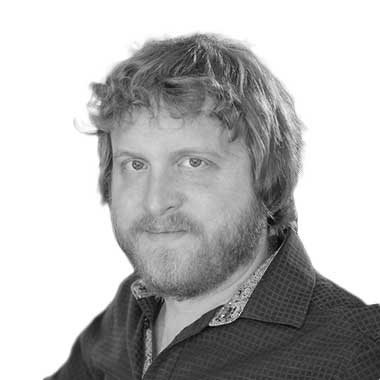 About
Martin Vallières is a Canada CIFAR AI Chair and an assistant professor in the Department of Computer Science of Université de Sherbrooke. 
Vallières' main research interest is focused on the graph-based integration of heterogeneous medical data types for improved precision oncology. The overarching goal of his research is centered on the development of clinically-actionable models to better personalize cancer treatments and care ("precision oncology"). He is an expert in the field of radiomics (i.e. the high-throughput and quantitative analysis of medical images) and machine learning in oncology.
Awards
Rotblat Medal, citation prize, Physics in Medicine and Biology journal, 2018
Rising Star, Medical Physics Research Training Network, 2015
NSERC Alexander Graham Bell Canada Graduate Scholarship, 2010 and 2012
Relevant Publications
Zwanenburg, A., Vallières, M., Abdalah, M. A., Aerts, H. J., Andrearczyk, V., Apte, A., … & Löck, S. (2020). The image biomarker standardization initiative: standardized quantitative radiomics for high-throughput image-based phenotyping. Radiology, 295(2), 328-338.

Zwanenburg, A., Leger, S., Vallières, M., & Löck, S. (2016). Image biomarker standardisation initiative.

Vallières, M., Freeman, C. R., Skamene, S. R., & El Naqa, I. (2015). A radiomics model from joint FDG-PET and MRI texture features for the prediction of lung metastases in soft-tissue sarcomas of the extremities. Physics in Medicine & Biology, 60(14), 5471.

Vallieres, M., Kay-Rivest, E., Perrin, L. J., Liem, X., Furstoss, C., Aerts, H. J., … & El Naqa, I. (2017). Radiomics strategies for risk assessment of tumour failure in head-and-neck cancer. Scientific reports, 7(1), 1-14.

Zhou, H., Vallières, M., Bai, H. X., Su, C., Tang, H., Oldridge, D., … & Yang, L. (2017). MRI features predict survival and molecular markers in diffuse lower-grade gliomas. Neuro-oncology, 19(6), 862-870.
CIFAR is a registered charitable organization supported by the governments of Canada, Alberta and Quebec, as well as foundations, individuals, corporations and Canadian and international partner organizations.