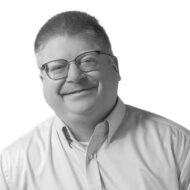 About
Matthew Taylor is a Fellow-in-Residence and Canada CIFAR AI Chair at Amii and an Associate Professor of Computing Science at the University of Alberta. He is the Director of the Intelligent Robot Learning (IRL) Lab and a Principal Investigator at the Reinforcement Learning & Artificial Intelligence (RLAI) Lab, both at the University of Alberta. Matthew is also Adjunct Professor at Washington State University.
Taylor's research focuses on developing intelligent agents, physical or virtual entities that interact with their environments. His main goals are to enable individual agents, and teams of agents, to learn tasks in real-world environments that are not fully known when the agents are designed. Current approaches that his teams are investigating include improving reinforcement learning through demonstrations, teaching reinforcement learning systems through action advice, and training agents with discrete human feedback.
Awards
Early Career Spotlight talk, IJCAI-18, 2018
Awarded AAAI Senior Member Status, 2018
WSU EECS Early Career Award, 2015
Relevant Publications
Da Silva, F. L., Hernandez-Leal, P., Kartal, B., & Taylor, M. E. (2020). Uncertainty-Aware Action Advising for Deep Reinforcement Learning Agents. In AAAI (pp. 5792-5799).

Gabriel, V., Du, Y., & Taylor, M. E. (2019). Pre-training with non-expert human demonstration for deep reinforcement learning. The Knowledge Engineering Review, 34.

Wang, Z., & Taylor, M. E. (2018). Interactive Reinforcement Learning with Dynamic Reuse of Prior Knowledge from Human and Agent's Demonstration.

Peng, B., MacGlashan, J., Loftin, R., Littman, M. L., Roberts, D. L., & Taylor, M. E. (2018). Curriculum design for machine learners in sequential decision tasks. IEEE Transactions on Emerging Topics in Computational Intelligence, 2(4), 268-277.

MacGlashan, J., Ho, M. K., Loftin, R., Peng, B., Roberts, D., Taylor, M. E., & Littman, M. L. (2017). Interactive learning from policy-dependent human feedback.
CIFAR is a registered charitable organization supported by the governments of Canada, Alberta and Quebec, as well as foundations, individuals, corporations and Canadian and international partner organizations.