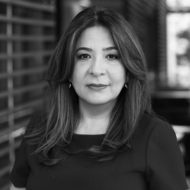 About
Parvin Mousavi is a is a Canada CIFAR AI Chair at the Vector Institute. She is Professor of Computer Science, Medicine, Pathology and Biomedical and Molecular Sciences at Queen's University, and a member of the Royal Society of Canada, College of New Scholars. She has previously held a Senior Scientist position at Brigham and Women's Hospital in Boston and visiting professorships at Harvard Medical School and the University of British Columbia.
Mousavi's research focuses on developing and leveraging machine learning in computer assisted medical interventions and precision medicine, contributing to the societal impact of AI on the global community.
She also leads training of the next generation of AI talent through a multi-institutional NSERC CREATE Training program in Medical Informatics at the intersection of machine learning and digital health.
Awards
Fellow, Medical Image Comuting and Computer Assisted Interventions, 2021
Royal Society of Canada, College of New Scholars, Artists and Scientists, 2016-2023
IEEE Canada C.C. Gotlieb Computer Medal, 2019
Creative Destruction Laboratory Ideas Award, 2018
Outstanding Young Computer Science Researcher Prize, Canadian Assoc for Computer Science, 2011
Relevant Publications
A Jamzad, A Santilli, S Varma, J Engle, M Kauffmann, J Rudan, G Fichtinger, P Mousavi. (2021). Graph Transformers for characterization and interpretation of surgical margins. Medical Image Computing and Computer Assisted Interventions (MICCAI).
A Sedghi, LJ O'Donnell, T Kapur, E Learned-Miller, P Mousavi, WM Wells. (2021). Image registration: Maximum likelihood, minimum entropy and deep learning. Medical Image Analysis (MEDIA).; 69: 101939
E Kaczmarek, J Nanayakkara, A Sedghi, M Pesteie,T Tusch, N Renwick, P Mousavi. (2022). Topology Preserving Stratification of Tissue Neoplasticity using Deep Neural Maps and microRNA Signatures. BMC Bioinformatics. doi: 10.1186/s12859-022-04559-4.PMID: 35026982
B Chan, B Chen, A Sedghi, P Laird, D Maslove, P Mousavi. ( 2020). Generalizable Deep Temporal Models for Predicting Episodes of Sudden Hypotension in Critically Ill Patients: A Personalized Approach. Scientific Reports.
S Azizi, S Bayat, P Yan, A Tahmasebi, J Tae Kwak, S Xu, B Turkbey, P Choyke, P Pinto, P Mousavi, P Abolmaesumi. (2018). Deep Recurrent Neural Networks for Prostate Cancer Detection: Analysis of Temporal Enhanced Ultrasound. IEEE Transactions on Medical Imaging.
CIFAR is a registered charitable organization supported by the governments of Canada, Alberta and Quebec, as well as foundations, individuals, corporations and Canadian and international partner organizations.