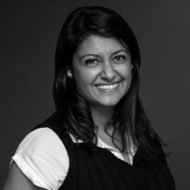 Appointment
CIFAR Azrieli Global Scholars 2021-2023
Brain, Mind & Consciousness
About
Sahba Besharati is a neuropsychologist and senior lecturer in cognitive neuroscience at the Department of Psychology at the University of the Witwatersrand (Wits). She is the cofounder and joint leader of Wits NeuRL, a cross-disciplinary research laboratory that aims to advance the practice and research of cognitive neuroscience in the southern African context. Besharati's research specialises in the area of social and affective neuroscience, where she integrates innovative methods to investigate self-consciousness, emotion and social cognition. Her research addresses the question of how we become aware of ourselves and others in the world, and how our environment influences this construction of the self. In doing so, her research also explores how the brain changes and reorganises itself following brain injury. She has been actively involved in capacity building in the neurosciences for unrepresented researchers, and in making research around the brain accessible and interesting for a wider public audience.
Awards
Ben Barres Spotlight Award– runner-up prize, eLife Sciences, 2020
Southern African Neuroscience Award for best oral presentation, Biological Psychiatry, 2019
Mail and Guardian Young 200 South Africans, Mail and Guardian newspaper, 2018
Neuropsychology International Fellowship Award, the British Neuropsychological Society in conjunction with the British Neuropsychological Society, 2014
Relevant Publications
Kirsch, L. P., Besharati, S., Papadaki, C., Crucianelli, L., Bertagnoli, S., Ward, N., … & Fotopoulou, A. (2020). Damage to the right insula disrupts the perception of affective touch. Elife, 9, e47895.

Besharati, S., Forkel, S. J., Kopelman, M., Solms, M., Jenkinson, P. M., & Fotopoulou, A. (2016). Mentalizing the body: spatial and social cognition in anosognosia for hemiplegia. Brain, 139(3), 971-985.

Besharati, S., Forkel, S. J., Kopelman, M., Solms, M., Jenkinson, P. M., & Fotopoulou, A. (2014). The affective modulation of motor awareness in anosognosia for hemiplegia: behavioural and lesion evidence. cortex, 61, 127-140.
CIFAR is a registered charitable organization supported by the governments of Canada, Alberta and Quebec, as well as foundations, individuals, corporations and Canadian and international partner organizations.