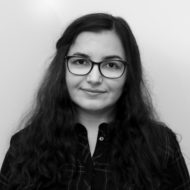 About
Samira Ebrahimi Kahou's work spans across several areas in deep learning research including multi-modal learning, knowledge distillation, deep reinforcement learning, and applications. She has made significant contributions to the field of human computer interaction with her work on multi-modal learning for emotion recognition in videos. She has also worked on visual reasoning at the intersection of vision and text. She contributed to the creation of several large-scale benchmarks including FigureQA (visual reasoning on mathematical plots), Something-Something (fine-grained video captioning) and ReDial (conversational movie recommendation). On the application side Samira works on machine learning for disaster response with focus on modeling of extreme weather events.
Awards
Member of team that won the second place in the PROBA-V Super Resolution Challenge, European Space Agency, 2019
Best Thesis Award in the Department of Computer Engineering, Polytechnique Montréal, 2017
Leader of team that won the third place in the Emotion Recognition in the Wild Challenge, ICMI, 2015
Best Paper Award, ECCV workshop on computer vision with local binary patterns, 2014
Leader of team that won the first place in the Emotion Recognition in the Wild Challenge, 2013
Relevant Publications
Li, R., Ebrahimi Kahou, S., Schulz, H., Michalski, V., Charlin, L., & Pal, C. (2018). Towards deep conversational recommendations. Advances in neural information processing systems, 31, 9725-9735.
Goyal, R., Kahou, S. E., Michalski, V., Materzynska, J., Westphal, S., Kim, H., ... & Memisevic, R. (2017, October). The" Something Something" Video Database for Learning and Evaluating Visual Common Sense. In ICCV (Vol. 1, No. 4, p. 5).
Kahou, S. E., Bouthillier, X., Lamblin, P., Gulcehre, C., Michalski, V., Konda, K., ... & Bengio, Y. (2016). Emonets: Multimodal deep learning approaches for emotion recognition in video. Journal on Multimodal User Interfaces, 10(2), 99-111.
Romero, A., Ballas, N., Kahou, S. E., Chassang, A., Gatta, C., & Bengio, Y. (2014). Fitnets: Hints for thin deep nets. arXiv preprint arXiv:1412.6550.
CIFAR is a registered charitable organization supported by the governments of Canada, Alberta and Quebec, as well as foundations, individuals, corporations and Canadian and international partner organizations.