July 1, 1982
CIFAR opens its doors
Spurred by an idea from John Leyerle, the University of Toronto's Dean of Graduate Studies, for a Canadian hub for advanced research, The Canadian Institute for Advanced Research (CIAR) celebrates its official opening. In 2006, the acronym would change to CIFAR. Dr. Fraser Mustard is appointed CIFAR's first President & CEO and the first programs begin to take shape.
The goal is simple, yet revolutionary and profound for Canadian science: "foster basic, conceptual research of high quality at an advanced level across the full spectrum of knowledge in the humanities, social sciences, natural sciences and life sciences."
Over the next 40 years, this simple model will prove to have a remarkable impact on science, on Canada and on the world.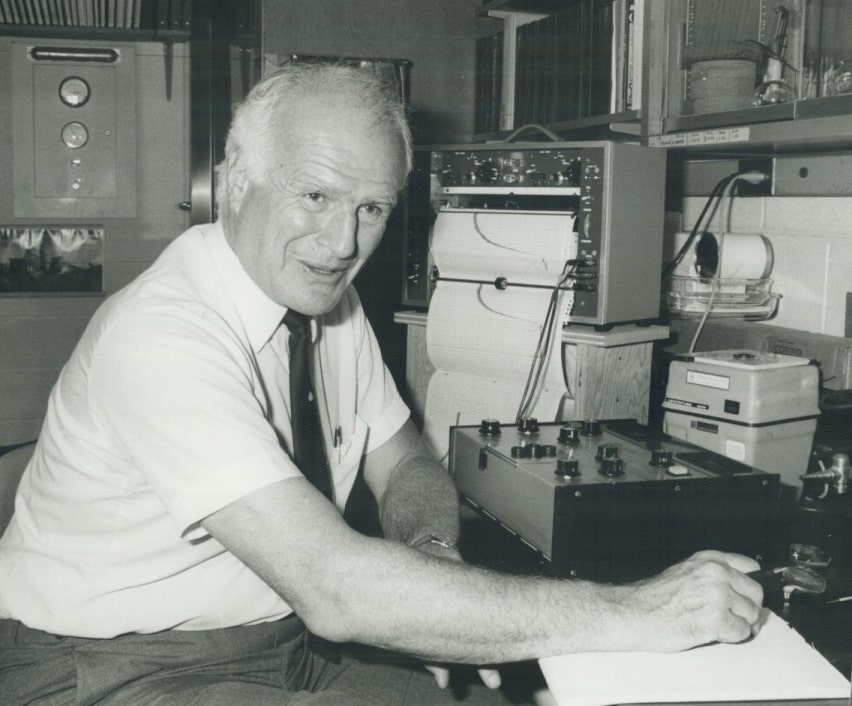 1982
CIFAR receives its first donations
In 1982 and 1983, the institute's mission attracts its first three donors: Andrés Wines Limited (now Andrew Peller Limited), Walter and Duncan Gordon of the Gordon Foundation, and Spar Aerospace (now MDA), in support of CIFAR's first program. The Government of Ontario also provides its very first financial support to CIFAR.
1982
Planting research roots
In one of the earliest meetings of CIFAR's Research Council, members discuss a cutting-edge theme area: "an ambitious research program centred on neuroscience and vision, sensory perception and robotics." This will shape the first program launched the following year.
July 1, 1983
CIFAR announces its first formal appointment of a Senior Fellow, Dr. William Tatton, a neurologist at the Playfair Institute of the Toronto Western Hospital.
1983
A new age of AI is born
CIFAR's first program launches: Artificial Intelligence, Robotics and Society. For the next decade, researchers make significant contributions to the fields of computer vision and knowledge representation. Among the first cohort of researchers is Geoffrey Hinton, whose research, decades later, will ultimately lead to deep learning and the current revolution in AI.
The program is the beginning of CIFAR's role in AI leadership in Canada and the world.
Read more about our AI leadership.
Read more about how our programs evolved over the last 40 years.
1983
CIFAR receives its first international funding from the U.S. based Rockefeller Foundation
1985
CIFAR is a catalyst for the Canadarm2
The Canadarm2 aboard the Inter­national Space Station is recognized around the world as a symbol of Canadian technological ingenuity. What's not widely known is how CIFAR played a role in getting it up there. In 1985, CIFAR President Dr. Fraser Mustard makes a case to the House of Commons that Canada needs to consolidate its space-based efforts into one agency. He "stressed the importance of artificial intelligence and robotics research not just for the space station project, where it would be vital, but also for the both the economy and Canadian society..." A year later, the Canadian Space Agency is born, which will lead to the deployment of the Canadarm2 in 2001. Read more about the Canadarm2.

1987
CIFAR begins positioning Canada as a global hub for AI
CIFAR's Artificial Intelligence & Robotics program launches a unique initiative to strengthen interaction between universities and industry on R&D in artificial intelligence by helping to establish the Pre-Competitive Applied Research Network (Precarn). It helps to create numerous partnerships between corporations, research institutes and government, enabling companies to bring new technologies to market faster.
1987
The beginnings of lasting, impactful partnerships
Manulife makes its first gift to CIFAR in support of a new Population Health program, which is foundational in establishing the social determinants of health. Read more about CIFAR's Health Breakthroughs.
RBC makes its first gift and ultimately becomes CIFAR's largest financial institution donor. Read more about RBC's recent support of CIFAR's EDI initiatives.