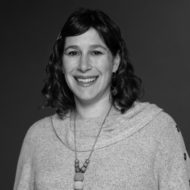 Appointment
CIFAR Azrieli Global Scholars 2021-2023
Fungal Kingdom: Threats & Opportunities
About
Aleeza Gerstein's research applies evolutionary principles and computational and statistical methods to understand the factors that influence how and why fungal populations evolve. Her lab studies the genetic differences among fungal pathogens and tracks how they respond to different types of drugs to try and minimize the acquisition of drug resistance. Her team also works with local clinicians in Manitoba, Canada, to acquire and characterize local fungal isolates to examine the relatedness between local and global isolates and to identify when and why different patterns are observed in different infection contexts. Gerstein has a current focus on characterizing fungal isolates in the context of recurrent vulvovaginal candidiasis ("yeast infections"), and to better understand whether different drugs or treatment regimes can reduce the rate of repeat infections.
Awards
Faculty of Science Outreach Award, University of Manitoba, 2020
Banting Postdoctoral Fellow (CIHR), University of Minnesota, 2015
Delill Nasser Career Development Award, Genetics Society of America, 2013
NSERC Postdoctoral Fellowship, Tel Aviv University & University of Minnesota, 2013
Azrieli International Postdoctoral Fellowship, Tel Aviv University, 2013
Relevant Publications
Gerstein, A.C. & Sharp, N.P. (2021). The population genetics of ploidy change in fungi. FEMS Microbiology Reviews, fuab006, DOI:10.1093/femsre/fuab006.

Gerstein, A.C. & Berman, J. (2020). Candida albicans genetic background influences mean and heterogeneity of drug responses and genome stability during evolution to fluconazole. mSphere. 5: e00480-20. DOI: 10.1128/mSphere.00480-20

Gerstein, A.C, Jackson, K.M., McDonald, T.R., Wang, Y. , Lueck, B.D., Smith, K.D., Akampurira, A., Meya, D.B., Xue, C., Boulware, D.R., Nielsen, K. (2019) Identification of pathogen genomic differences that impact human immune response and disease during Cryptococcus neoformans infection. mBio, 4: e01440-19. DOI: 10.1128/mBio.01440-19
CIFAR is a registered charitable organization supported by the governments of Canada, Alberta and Quebec, as well as foundations, individuals, corporations and Canadian and international partner organizations.