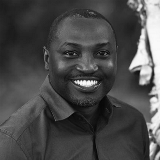 Appointment
CIFAR Azrieli Global Scholar 2017-2019
About
Alexander Kwarteng's research seeks to elucidate the immunology and molecular mechanisms underlying diseases of poverty.
He is particularly interested in neglected tropical diseases such as human filarial infection. By extension, his team focuses on understanding the complex host-microbiome interactions and molecular underpinning behind the array of pathologies that people with filarial infections present with. Kwarteng has been actively involved in several clinical trials targeted at eliminating filariasis in affected communities in Ghana. His team develops and promotes the use of innovative strategies to alleviate the pain and burden of people suffering from lymphedema (elephantiasis) and hydrocele. To do this, they take an interdisciplinary approach, with a cultural perspective, to fight social stigmatization and depressive mental illness in lymphatic filariasi–endemic communities in Ghana. In recent years Kwarteng's research interests have expanded to include cancer genomics, computational immunology and emerging infectious diseases.
Awards
Deutscher Akademischer Austauschdienst (DAAD) Scholar
Relevant Publications
Kwarteng, A., and S.T. Ahuno. "Immunity in filarial infections: lessons from animal models and human studies." Scand J Immunol (2017).

Kwarteng, A., S.T. Ahuno, and F.O. Akoto. "Killing filarial nematode parasites: role of treatment options and host immune response." Infect Dis Poverty 5, no. 1 (2016): 86.

Debrah, A.Y. et al. "Doxycycline Leads to Sterility and Enhanced Killing of Female Onchocerca volvulus Worms in an Area With Persistent Microfilaridermia After Repeated Ivermectin Treatment: A Randomized, Placebo-Controlled, Double-Blind Trial." Clin Infect Dis. 61, no. 4 (2015): 517–26.

Arndts, K. et al. "Elevated adaptive immune responses are associated with latent infections of Wuchereria bancrofti." PLoS Negl Trop Dis. 6, no. 4 (2012).

Mand, S. et al. "Doxycycline improves filarial lymphedema independent of active filarial infection: a randomized controlled trial." Clin Infect Dis. 55, no. 5 (2012): 621–30.
CIFAR is a registered charitable organization supported by the governments of Canada, Alberta and Quebec, as well as foundations, individuals, corporations and Canadian and international partner organizations.