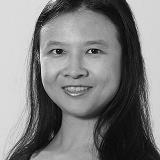 About
Angel Chang is a Canada CIFAR AI Chair with Amii, an assistant professor at Simon Fraser University, and a recipient of the Hans Fischer Fellowship from the Technical University of Munich Institute for Advanced Study. She is also a faculty member of the GrUVi Lab and Nat Lang Lab at Simon Fraser University. 
Chang works at the intersection of language and vision to create computer models with knowledge and understanding of the world. Her research connects language to 3D representations of shapes, scenes, and ground language for embodied agents in indoor environments. Through her collaborative research, Chang has developed methods for generating coloured 3D shapes from natural language and for turning input text into computer-generated scenes that can then be further refined through textual interaction by the user.
Awards
SGP 2018 and SGP 2020 Dataset Awards from the Symposium on Geometry Processing for her work on the ShapeNet and ScanNet datasets.
Relevant Publications
Szot, A., Clegg, A., Undersander, E., Wijmans, E., Zhao, Y., Turner, J., … & Batra, D. (2021). Habitat 2.0: Training Home Assistants to Rearrange their Habitat.

Chen, Z., Gholami, A., Nießner, M., & Chang, A. X. (2021). Scan2Cap: Context-aware Dense Captioning in RGB-D Scans. In Proceedings of the IEEE/CVF Conference on Computer Vision and Pattern Recognition (pp. 3193-3203).

Chang, A., Dai, A., Funkhouser, T., Halber, M., Niessner, M., Savva, M., … & Zhang, Y. (2017). Matterport3d: Learning from rgb-d data in indoor environments.

Dai, A., Chang, A. X., Savva, M., Halber, M., Funkhouser, T., & Nießner, M. (2017). Scannet: Richly-annotated 3d reconstructions of indoor scenes. In Proceedings of the IEEE conference on computer vision and pattern recognition (pp. 5828-5839).

Chang, A. X., Funkhouser, T., Guibas, L., Hanrahan, P., Huang, Q., Li, Z., … & Yu, F. (2015). Shapenet: An information-rich 3d model repository.
CIFAR is a registered charitable organization supported by the governments of Canada, Alberta and Quebec, as well as foundations, individuals, corporations and Canadian and international partner organizations.