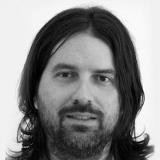 About
Christian Gagné is a Canada CIFAR AI Chair at Mila and a full professor in the Department of Electrical and Computer Engineering and the director of Institute Intelligence and Data (IDD) at Université Laval.
Gagné's research interests include method development for machine learning and stochastic optimization. In particular, he is interested in deep neural networks, learning and transfer of representations, meta-learning as well as multitask learning. He is also interested in optimization approaches based on probabilistic models as well as evolutionary algorithms, involving, for example, black box optimization, and automatic programming.
Awards
Best Paper Award, Canadian AI, 2020
Best Paper Award, GECCO, 2009
Best Paper Award, GECCO, 2002
Relevant Publications
Bouchard, C., Wiesner, T., Deschênes, A., Lavoie-Cardinal, F., & Gagné, C. (2021). Task-Assisted GAN for Resolution Enhancement and Modality Translation in Fluorescence Microscopy.

Shui, C., Li, Z., Li, J., Gagné, C., Ling, C., & Wang, B. (2021). Aggregating From Multiple Target-Shifted Sources.

Shui, C., Wang, B., & Gagné, C. (2021). On the benefits of representation regularization in invariance based domain generalization.

Gagné, C., Zeng, M., & Rusch, L. A. (2021). Recurrent neural networks achieving MLSE performance for optical channel equalization. Optics Express, 29(9), 13033-13047.

Li, Z., Gagné, C., Ling, C., & Wang, B. (2020). Unified Principles For Multi-Source Transfer Learning Under Label Shifts.
CIFAR is a registered charitable organization supported by the governments of Canada, Alberta and Quebec, as well as foundations, individuals, corporations and Canadian and international partner organizations.