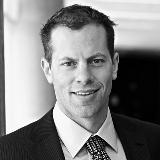 Appointment
Accelerated Decarbonization
About
Curtis Berlinguette leads a research program fully dedicated to solar energy conversion schemes, including the design of novel nanoscale materials for advanced solar cells, and the development of economically viable ways to store solar electricity as high-density fuels such as hydrogen. His program seeks to translate fundamental laboratory discoveries at interfaces into commercially viable devices.
Awards
NSERC E.W.R. Steacie Memorial Fellowship, 2016
Strem Chemicals Award for Pure or Applied Inorganic Chemistry, 2016
Canada Research Chair in Solar Energy Conversion, 2014
Calgary's Top 40 Under 40, 2012
Alfred P. Sloan Fellowship, 2011
Tier 2 Canada Research Chair in Energy Conversion, 2008
Relevant Publications
Weekes, D.M., Salvatore, D.A., Reyes, A., Huang, A., & Berlinguette, C.P. (2018). Electrolytic C02 reduction in a flow cell. Accounts of Chemical Research, 51(4), 910-918. DOI: 10.1021/acs.accounts.8b00010

Salvatore, D.A., Weekes, D.M., He, J., Dettelbach, K.E., … & Berlinguette, C.P.(2018). Electrolysis of gaseous CO2 to CO in a flow cell with a bipolar membrane. ACS Energy Letters, 3(1), 149-54. DOI: 10.1021/acsenergylett.7b01017

Li, T., Kasahara, T., He, J., Dettelbach, K.E., Sammis, G.M., & Berlinguette, C.P. (2017). Photoelectrochemical oxidation of organic substrates in organic media. Nature Communications, 8, 390. DOI: 10.1038/s41467-017-00420-y

Hu, K., Blair, A.D, Piechota, E.J., Schauer, P.A.,…& Berlinguette, C.P. (2016). Kinetic Pathway for Interfacial Electron Transfer from a Semiconductor to a Molecule. Nature Chemistry, 8, 853-859. DOI: 10.1038/nchem.2549

Smith, R.D., Prevot, M.S., Fagan, R.D., Zhang, Z.,…& Berlinguette, C.P. (2013). Photochemical route for accessing amorphous metal-oxide materials for heterogeneous water oxidation catalysis. Science, 340(6128), 60-63. Doi: 10.1126/science.1233638.
CIFAR is a registered charitable organization supported by the governments of Canada and Quebec, as well as foundations, individuals, corporations and Canadian and international partner organizations.