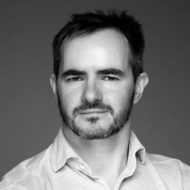 About
Danilo Bzdok is a Canada CIFAR AI Chair at Mila and an associate professor in the department of biomedical engineering at the McGill University's Faculty of Medicine. 
Bzdok's research focuses on machine learning, population systems neuroscience, and computational statistics that are integrated towards deepening our understanding of the neurobiology of human intelligence. His research identifies and predicts brain phenotypes of hidden population variation by capitalising on heterogeneous data sources to tackle open questions in systems neuroscience. His innovative approach to research is paving new ways for precision medicine in brain health.
Awards
Rising Star Scientist, Bill and Melinda Gates Foundation, 2018
Rising Star, American Psychological Society, 2017
Best PhD thesis RWTH Aachen University, 2013
Relevant Publications
Ballentine, G., Friedman, S. F., & Bzdok, D. (2021). Trips and Neurotransmitters: Discovering Principled Patterns across 6,850 Hallucinogenic Experiences.

Schulz, M. A., Yeo, B. T., Vogelstein, J. T., Mourao-Miranada, J., Kather, J. N., Kording, K., … & Bzdok, D. (2020). Different scaling of linear models and deep learning in UKBiobank brain images versus machine-learning datasets. Nature communications, 11(1), 1-15.

Bzdok, D., & Ioannidis, J. P. (2019). Exploration, inference, and prediction in neuroscience and biomedicine. Trends in neurosciences, 42(4), 251-262.

Bzdok, D., Nichols, T. E., & Smith, S. M. (2019). Towards algorithmic analytics for large-scale datasets. Nature Machine Intelligence, 1(7), 296-306.

Kernbach, J. M., Yeo, B. T., Smallwood, J., Margulies, D. S., De Schotten, M. T., Walter, H., … & Bzdok, D. (2018). Subspecialization within default mode nodes characterized in 10,000 UK Biobank participants. Proceedings of the National Academy of Sciences, 115(48), 12295-12300.
CIFAR is a registered charitable organization supported by the governments of Canada, Alberta and Quebec, as well as foundations, individuals, corporations and Canadian and international partner organizations.