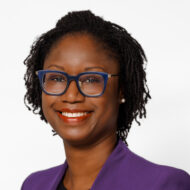 Head, Equity, Diversity & Inclusion
About
Ekua Quansah (she/her) is the Head of Equity, Diversity & Inclusion at CIFAR. Ekua is a lawyer and consultant with more than 10 years of experience in the strategic development and implementation of equity, diversity, and inclusion initiatives in a range of organizational landscapes. She approaches her work through an anti-racist, intersectional lens, which allows her to centre race while understanding the complex interplay between race, disability, creed, gender identity, gender expression, sexual orientation, family status, and other aspects of identity.
Ekua holds a B.A. (Hons.) in African Studies and Sociology and an M.A. in Sociology and Equity Studies in Education from the University of Toronto, as well as an LL.B. from the University of Ottawa. She was called to the Bar in Ontario, Canada in 2009.
Ekua held the role of Changemaker-in-Residence 2021-2022 at Massey College, University of Toronto. In 2021, she was named one of the Top 25 DEI Persons of the Year by The Canadian Multicultural Group.
Contact:
ekua.quansah@cifar.ca
CIFAR is a registered charitable organization supported by the governments of Canada, Alberta and Quebec, as well as foundations, individuals, corporations and Canadian and international partner organizations.