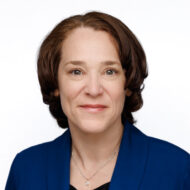 Executive Director, Pan-Canadian AI Strategy
About
Elissa Strome is the Executive Director of the Pan-Canadian Artificial Intelligence Strategy at CIFAR. She works with leaders at Canada's three national AI Institutes in Edmonton (Amii), Montreal (Mila), and Toronto (Vector Institute) and across the country to advance Canada's leadership in AI research, training and innovation. She is a champion of equity, diversity and inclusion in science, and an ambassador for Canada's position in AI research, innovation, and policy internationally. Elissa is a member of the federal government's AI Advisory Council, where she co-chairs the Public Awareness Working Group, and the OECD Network of Experts on AI.
Elissa completed her PhD in Neuroscience at the University of British Columbia. Following a post-doc at Lund University, in Sweden, she decided to pursue a career in research strategy, policy, and leadership. From 2008 – 2017 she held senior leadership positions at University of Toronto's Office of the Vice-President, Research and Innovation, advancing major institutional strategic research priorities, including establishing and leading the SOSCIP research consortium. She recently earned her black belt in taekwondo.
Contact:
CIFAR is a registered charitable organization supported by the governments of Canada, Alberta and Quebec, as well as foundations, individuals, corporations and Canadian and international partner organizations.