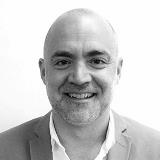 About
Frank Wood is a Canada CIFAR AI Chair at Mila and an associate professor of Computer Science at the University of British Columbia. 
Wood's primary research areas include deep generative modeling, amortized inference, probabilistic programming, reinforcement learning, and applied probabilistic machine learning. His research interests range from the development of new probabilistic models and inference algorithms to real-world applications. Additionally, his research contributions include probabilistic programming systems, new models and inference algorithms, and novel applications of such models to problems in autonomous driving, computational neuroscience, vision, natural language processing, robotics, and reinforcement learning.
Relevant Publications
Masrani, V., Le, T. A., & Wood, F. (2019). The thermodynamic variational objective.

Beronov, B., Weilbach, C., Wood, F., & Campbell, T. Sequential Core-Set Monte Carlo.

Masrani, V., Brekelmans, R., Bui, T., Nielsen, F., Galstyan, A., Steeg, G. V., & Wood, F. (2021). q-Paths: Generalizing the Geometric Annealing Path using Power Means.

Warrington, A., Lavington, J. W., Scibior, A., Schmidt, M., & Wood, F. (2021, July). Robust asymmetric learning in pomdps. In International Conference on Machine Learning (pp. 11013-11023). PMLR.

Ścibior, A., Masrani, V., & Wood, F. (2021). Differentiable Particle Filtering without Modifying the Forward Pass.
CIFAR is a registered charitable organization supported by the governments of Canada, Alberta and Quebec, as well as foundations, individuals, corporations and Canadian and international partner organizations.