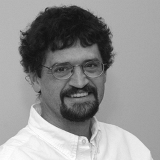 Appointment
Gravity & the Extreme Universe
About
Gary Hinshaw's work at UBC focuses on the building of two new radio observatories to explore the large-scale properties of the universe: its origin, evolution and ultimate fate.
Hinshaw was an astrophysicist at NASA's Goddard Space Flight Center for two decades. He has 15 years of experience in cosmic microwave background (CMB) satellite data analysis with the COBE-DMR and WMAP missions. Hinshaw also served as data analysis lead for NASA's Wilkinson Microwave Anisotropy Probe, and as director of the Legacy Archive for Microwave Background Data Analysis (LAMBDA), which provides CMB data to the scientific community.
Awards
Goddard John C. Lindsay Memorial Award, 2006
Goddard Space Science Achievement Award, 2004
Relevant Publications
Bennett, C.L., Bay, M., Halpern, M., Hinshaw, G., et al. (2003). The microwave anisotropy probe mission. Astrophysics Journal, 583(1), 1-23. DOI: 10.1086/345346
CIFAR is a registered charitable organization supported by the governments of Canada, Alberta and Quebec, as well as foundations, individuals, corporations and Canadian and international partner organizations.