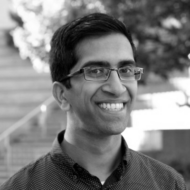 About
Gautam Kamath's research focuses on considerations related to trustworthy machine learning, particularly concerns of privacy and robustness. For example, how can we ensure that a machine learning model doesn't leak sensitive information about its training data? Can we guarantee that a machine learning model is protected against interference by malicious actors? He tries to understand the impact of these constraints at a fundamental theoretical level, as well as develop practical methods for training models which are privacy-preserving, robust, or more generally, suitable for use in the wild.
Awards
CCS Best Reviewer, ACM SIGSAC (2021)
Discovery Accelerator Supplement, NSERC (2020)
Akamai Presidential Fellow, MIT (2012)
Computer Science Prize for Academic Excellence, Cornell University (2012)
STOC Best Student Presentation, ACM SIGACT (2012)
Relevant Publications
Hopkins, S. B., Kamath, G., Majid, M., & Naryanan, S. (2023). Robustness Implies Privacy in Statistical Estimation. Proceedings of the 55th Annual ACM Symposium on the Theory of Computing, STOC '23.
Yu, D., Naik, S., Backurs, A., Gopi, S., Inan, H. A., Kamath, G., Kulkarni, J., Lee, Y. T., Manoel, A., Wutschitz, L., Yekhanin, S., & Zhang, H. (2022). Differentially private fine-tuning of language models. Proceedings of the 10th International Conference on Learning Representations, ICLR '22.
Canonne, C. L., Kamath, G., & Steinke, T. (2022). The discrete Gaussian for differential privacy. Journal of Privacy and Confidentiality, 12(1).
Sekhari, A., Acharya, J., Kamath, G., Suresh, & A. T., (2021). Remember What You Want to Forget: Algorithms for Machine Unlearning. Advances in Neural Information Processing Systems 34, NeurIPS '21.
Diakonikolas, I., Kamath, G., Kane, D. M, Li, J., Moitra, A., & Stewart, A. (2019). Robust estimators in high-dimensions without the computational intractability. SIAM Journal on Computing, 48(2), 742–864.
CIFAR is a registered charitable organization supported by the governments of Canada, Alberta and Quebec, as well as foundations, individuals, corporations and Canadian and international partner organizations.