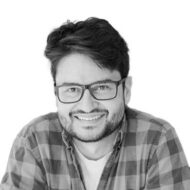 About
Levi Lelis is a Canada CIFAR AI Chair and a fellow at Amii. He is appointed as an assistant professor in the Department of Computing Science at the University of Alberta and a professor on leave from the Universidade Federal de Viçosa in Brazil.
Many important problems, such as drug discovery and robotic path planning, can be cast as combinatorial search tasks. Levi Lelis' research focuses on the development of algorithms for solving such tasks. The algorithms his research group has developed have been applied to solve problems in design, music, sports, and games. The group is focused on developing algorithms for solving combinatorial search problems that arise in the process of synthesizing human-readable computer programs encoding solutions to decision-making problems. The synthesis of such programmatic solutions is arguably one of the most promising research directions for dealing with the lack of interpretability of current intelligent systems. Furthermore, computer-synthesized programs might be used to transfer machine-generated knowledge to humans as we might be able to understand and learn the solutions encoded in such programs.
Awards
Distinguished Program Committee Member, IJCAI, 2018-2019
Outstanding Contribution in Reviewing, Artificial Intelligence journal, 2017
Winner of the MicroRTS Competition, IEEE, 2018
Runner-up for the International Planning Competition (IPC), ICAPS, 2018
Relevant Publications
Moraes, R., & Lelis, L. (2018). Asymmetric action abstractions for multi-unit control in adversarial real-time games. In Proceedings of the AAAI Conference on Artificial Intelligence (Vol. 32, No. 1).

Orseau, L., Lelis, L., Lattimore, T., & Weber, T. (2018). Single-agent policy tree search with guarantees. In Advances in Neural Information Processing Systems (pp. 3201-3211).

Franco, S., Torralba, A., Lelis, L. H., & Barley, M. (2017). On creating complementary pattern databases. In Proceedings of the 26th International Joint Conference on Artificial Intelligence (pp. 4302-4309).

Lelis, L. H., Stern, R., Arfaee, S. J., Zilles, S., Felner, A., & Holte, R. C. (2016). Predicting optimal solution costs with bidirectional stratified sampling in regular search spaces. Artificial Intelligence, 230, 51-73.

Lelis, L. H., Otten, L., & Dechter, R. (2014). Memory-efficient tree size prediction for depth-first search in graphical models. In International Conference on Principles and Practice of Constraint Programming (pp. 481-496). Springer, Cham.
CIFAR is a registered charitable organization supported by the governments of Canada, Alberta and Quebec, as well as foundations, individuals, corporations and Canadian and international partner organizations.