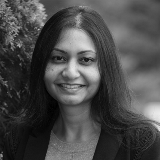 Appointment
CIFAR Azrieli Global Scholar 2018-2020
Brain, Mind & Consciousness
About
The Uddin lab is broadly focused on investigating the relationship between brain connectivity and cognition in typical and atypical development.
Within a cognitive neuroscience framework, their research uses magnetic resonance imaging to examine the organization of human brain networks supporting high-level cognitive processes. Their current projects focus on understanding brain network dynamics and cognitive flexibility in neurodevelopmental disorders such as autism.
Awards
Universal Scientific Education and Research Network Laureate in Medical Sciences, 2017
Organization for Human Brain Mapping Young Investigator Award, 2017
Brain & Behavior Research Foundation NARSAD Young Investigator Grant, 2015
NIMH Biobehavioral Research Awards for Innovative New Scientists R01, 2015
International Society for Autism Research Slifka/Ritvo Innovation in Autism Research Award, 2013
Relevant Publications
Bolt, T., Anderson, M.L., & Uddin, L.Q. (2018). Beyond the evoked/intrinsic neural process dichotomy. Network Neuroscience, 2(1), 1-22.

Uddin, L.Q. & Karlsgodt, K.H. (2018). Future directions for examination of brain networks in neurodevelopmental disorders. Journal of Clinical Child and Adolescent Psychology, 47(3), 483-497.

Uddin, L.Q., Dajani, D.R., Voorhies, W., et al. (2017). Progress and roadblocks in the search for brain-based biomarkers of autism and attention-deficit/hyperactivity disorder. Translational Psychiatry, 7(8), e1218. DOI: 10.1038/tp.2017.164

Uddin, L.Q. (2015). Salience processing and insular cortical function and dysfunction. Nature Reviews Neuroscience, 16(1), 55-61. DOI: 10.1038/nrn3857.

Dajani, D.R. & Uddin, L.Q. (2015). Demystifying cognitive flexibility: Implications for clinical and developmental neuroscience.Trends in Neurosciences, 38(9), 571-578. DOI: 10.1016/j.tins.2015.07.003
CIFAR is a registered charitable organization supported by the governments of Canada, Alberta and Quebec, as well as foundations, individuals, corporations and Canadian and international partner organizations.