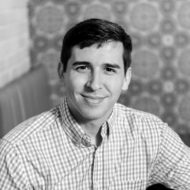 About
Matthew Guzdial is a Canada CIFAR AI Chair, a fellow at Amii, and an assistant professor of Computing Science at the University of Alberta.
Guzdial's research focuses on the intersection of machine learning (ML) and creativity. This leads to projects on how ML can help humans in creative endeavors like creating new video games or how ML agents can help people in a design process.  He has also worked on questions such as how models of creativity from psychology can be adapted to help machine learning. For example, there's a type of creativity called combinational creativity, which is the type of creativity humans use to combine old knowledge to make something new (i.e. what if I ask you to invent a new animal). Guzdial has conducted research on using a computer model of this type of creativity to allow ML models to recognize or generate images of animals they've never seen, and to improve their ability to predict unseen behaviours in a dataset. 
Awards
Best Paper Award, Association for Computational Creativity, 2017 & 2019
Best Program Committee Member Award, AAAI Artificial Intelligence and Digital Entertainment, 2018
Heidelberg Laureate Forum Young Researcher, Heidelberg Laureate Forum, 2018
Unity Graduate Fellowship, Unity Software Inc., 2018
Best Paper Award, Association for Computational Creativity, 2016
Relevant Publications
Guzdial, M., Liao, N., Chen, J., Chen, S. Y., Shah, S., Shah, V., … & Riedl, M. O. (2019). Friend, collaborator, student, manager: How design of an ai-driven game level editor affects creators. In Proceedings of the 2019 CHI Conference on Human Factors in Computing Systems (pp. 1-13).

Guzdial, M., & Riedl, M. O. (2018). Combinets: Creativity via recombination of neural networks.

Summerville, A., Snodgrass, S., Guzdial, M., Holmgård, C., Hoover, A. K., Isaksen, A., … & Togelius, J. (2018). Procedural content generation via machine learning (PCGML). IEEE Transactions on Games, 10(3), 257-270.

Guzdial, M., & Riedl, M. (2018). Automated game design via conceptual expansion. In Proceedings of the AAAI Conference on Artificial Intelligence and Interactive Digital Entertainment (Vol. 14, No. 1).

Guzdial, M., Li, B., & Riedl, M. O. (2017). Game Engine Learning from Video. In IJCAI (pp. 3707-3713).
CIFAR is a registered charitable organization supported by the governments of Canada, Alberta and Quebec, as well as foundations, individuals, corporations and Canadian and international partner organizations.