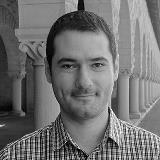 About
Murat Erdogdu is a Canada CIFAR AI Chair at the Vector Institute and an assistant professor in the department of computer science and statistical sciences at the University of Toronto.
With a background in engineering, Erdogdu has a keen interest in applying theory to solve real-world problems. His primary interest is in designing optimization algorithms for machine learning models. Using efficient algorithms, model training time can be reduced significantly, allowing researchers to efficiently test and select the best model for the problem at hand, be it recommender systems or image denoising.
Awards
Connaught New Researcher Award, 2019
Best Teaching Assistant Award, Department of Statistics, Stanford University, 2012
High Honor Student of Bogazici University Engineering Faculty, 2007-2011
High Achievement Scholarship from Prime Ministry of Turkey, 2006-2011
Dag Ozay Outstanding Student Award, Bogazici University Electrical Engineering, 2006
Relevant Publications
Li, X., Wu, D., Mackey, L., & Erdogdu, M. A. (2019). Stochastic runge-kutta accelerates langevin monte carlo and beyond.

Erdogdu, M. A., Mackey, L., & Shamir, O. (2018). Global non-convex optimization with discretized diffusions.

Chaudhuri, K., Kakade, S., Netrapalli, P., & Sanghavi, S. (2015). Convergence rates of active learning for maximum likelihood estimation.

Zhao, Q., Erdogdu, M. A., He, H. Y., Rajaraman, A., & Leskovec, J. (2015). Seismic: A self-exciting point process model for predicting tweet popularity. In Proceedings of the 21th ACM SIGKDD international conference on knowledge discovery and data mining (pp. 1513-1522).

Erdogdu, M. A., & Montanari, A. (2015). Convergence rates of sub-sampled newton methods.
CIFAR is a registered charitable organization supported by the governments of Canada, Alberta and Quebec, as well as foundations, individuals, corporations and Canadian and international partner organizations.