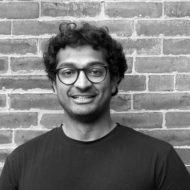 Appointment
Canada CIFAR AI Chair
National Program Committee member
About
Rahul Krishnan's research seeks to accelerate advances in healthcare using machine learning. By blending ideas from Bayesian networks, probabilistic inference, causal inference, and deep learning, he hopes to build practical machine learning models for use in clinical decision support tools. Such tools may be used to summarize clinical knowledge, help doctors in decision-making and point to new insights in the inner workings of the human body. The lack of prior knowledge about how high-dimensional data in medicine behave makes it challenging to prescribe mechanistic models of the data generating distribution. His research therefore has centered around developing learning algorithms for deep latent variable models, a powerful class of generative models that combine the probabilistic framework of Bayesian networks with the representational capacity of neural networks.
Awards
Tier II Canada Research Chair in Computational Medicine, 2023
NeurIPS Top 400 Reviewer, 2019, 2020
Henning Biermann Award, New York University, 2016
Pearson International Scholarship, University of Toronto, 2008-2013
Relevant Publications
Krishnan, R., Shalit, U., & Sontag, D. (2017, February). Structured inference networks for nonlinear state space models. In Proceedings of the AAAI Conference on Artificial Intelligence (Vol. 31, No. 1).

Liang, D., Krishnan, R. G., Hoffman, M. D., & Jebara, T. (2018, April). Variational autoencoders for collaborative filtering. In Proceedings of the 2018 World Wide Web Conference (pp. 689-698).

Krishnan, R., Liang, D., & Hoffman, M. (2018, March). On the challenges of learning with inference networks on sparse, high-dimensional data. In International Conference on Artificial Intelligence and Statistics (pp. 143-151). PMLR.
CIFAR is a registered charitable organization supported by the governments of Canada, Alberta and Quebec, as well as foundations, individuals, corporations and Canadian and international partner organizations.