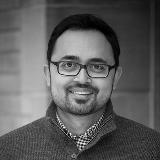 About
Rupam Mahmood is a Canada CIFAR AI Chair at Amii and an assistant professor in the Department of Computing Science at the University of Alberta. He is the Director of Reinforcement and Artificial Intelligence Lab. He is also the scientific advisor for Kindred Inc. and a faculty member of NextAI.
Mahmood develops reinforcement learning algorithms and real-time learning systems for controlling physical robots. His research focuses on developing general and constructive mechanisms for continually improving robot minds. 
He is working on two long-term programs consisting of several short-term projects: a simple and general reinforcement learning system for robot control, and core constructive mechanisms for continually learning agents. In the first program, he is developing a reinforcement learning system that can be easily deployed in many different robots for solving various tasks. The second program has his research teams developing and analyzing algorithms for learning policies and representations in a continual learning setup, in which the agent is expected to go through a series of changes in the environment and tasks. Through these two programs, Mahmood seeks to develop a system that enables scientific understanding as well as large-scale industrial adoption of robotics by analyzing and addressing shortcomings of current policy and representation learning methods.
Relevant Publications
Przystupa, M., Dehghan, M., Jagersand, M., Mahmood, A. R. (2021). Analyzing neural Jacobian methods in applications of visual servoing and kinematic control. In Proceedings of the 2021 International Conference on Robotics and Automation (ICRA).

Mahmood, A. R., Komer, B. J., & Korenkevych, D. (2020). U.S. Patent Application No. 16/560,761.

Limoyo, O., Chan, B., Marić, F., Wagstaff, B., Mahmood, A. R., Kelly, J. (2020). Heteroscedastic uncertainty for robust generative latent dynamics. In IEEE Robotics and Automation Letters 5(4), 6654-6661.

Korenkevych, D., Mahmood, A. R., Vasan, G., Bergstra, J. (2019). Autoregressive policies for continuous control deep reinforcement learning. In Proceedings of the 28th International Joint Conference on Artificial Intelligence.

Mahmood, A. R., Korenkevych, D., Vasan, G., Ma, W., Bergstra, J. (2018). Benchmarking reinforcement learning algorithms on real-world robots. In Proceedings of the 2nd Annual Conference on Robot Learning (CoRL).
CIFAR is a registered charitable organization supported by the governments of Canada, Alberta and Quebec, as well as foundations, individuals, corporations and Canadian and international partner organizations.