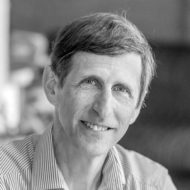 About
Russell Greiner is a Canada CIFAR AI Chair at Amii, and a Fellow-in-Residence. He is a Professor at the Department of Computing Science and an adjunct professor at the Department of Psychiatry at the University of Alberta. Additionally, Greiner is an elected Fellow of the Association for the Advancement of Artificial Intelligence (AAAI) and serves on the Scientific Committee of IVADO.
Greiner focuses on developing and improving applications of machine learning in medicine, providing solutions for specific real-world problems across a range of clinical considerations. 
Within the field of computational psychiatry, he uses machine learning on fMRI (functional magnetic resonance imaging) and other clinical data to develop new ways of diagnosing schizophrenia and for assessing the severity of a range of symptoms. In the area of precision medicine, Greiner collaborates with colleagues in health care to develop methods for recommending patient-specific plans for the treatment of diseases such as cancer or diabetes, and for predicting individual health outcomes.
Awards
Great Supervisor Award, University of Alberta, 2020
Fellow of the AAAI, Association for the Advancement of Artificial Intelligence, 2007
Killam Annual Professorship, Killam, 2007
McCalla Professorship, University of Alberta, 2005-2006
Multiple best paper prizes, ie., IJCAI, CSCSI.
Relevant Publications
Haider, H., Hoehn, B., Davis, S., & Greiner, R. (2020). Effective ways to build and evaluate individual survival distributions. Journal of Machine Learning Research, 21(85), 1-63.

Kumar, L., & Greiner, R. (2019). Gene expression based survival prediction for cancer patients—A topic modeling approach. PloS one, 14(11), e0224446.

Kalmady, S. V., Greiner, R., Agrawal, R., Shivakumar, V., Narayanaswamy, J. C., Brown, M. R., … & Venkatasubramanian, G. (2019). Towards artificial intelligence in mental health by improving schizophrenia prediction with multiple brain parcellation ensemble-learning. npj Schizophrenia, 5(1), 1-11.

Allen, Felicity, Allison Pon, Michael Wilson, Russ Greiner, and David Wishart. "CFM-ID: a web server for annotation, spectrum prediction and metabolite identification from tandem mass spectra." Nucleic acids research 42, no. W1 (2014): W94-W99.

Greiner, R., Su, X., Shen, B., & Zhou, W. (2005). Structural extension to logistic regression: Discriminative parameter learning of belief net classifiers. Machine Learning, 59(3), 297-322.
CIFAR is a registered charitable organization supported by the governments of Canada, Alberta and Quebec, as well as foundations, individuals, corporations and Canadian and international partner organizations.