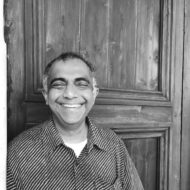 Appointment
Advisory Committee Chair
Advisor
Boundaries Membership & Belonging
Successful Societies
About
Vijayendra (Biju) Rao integrates his training in economics with theories and methods from anthropology, sociology and political science to study the social, cultural, and political context of extreme poverty in developing countries.
He leads the Social Observatory, an inter-disciplinary effort to improve the conversation between citizens and governments.
His research has spanned a wide variety of subjects including participatory development, collective action, deliberative democracy, the rise in dowries in India, the determinants and consequences of domestic violence, the economics of sex work, public celebrations, and culture and development policy.
He has worked with governments and NGOs to design, implement and evaluate policy interventions that harness the capacity of collective action and participation to reduce poverty, bridge gender and group-based boundaries, and improve the delivery of public services, in India, Indonesia, Malaysia, Nepal, Jamaica and Sri Lanka.
Awards
Life Member, Institute for Social and Economic Change, since 2009
Social Development Board, World Bank, 2002–14
Gender Board, World Bank, 2002–07
Relevant Publications
Christian, P. J., Kandpal, E., Palaniswamy, N. & Rao,V. (2019) Safety nets and natural disaster mitigation: evidence from cyclone Phailin in Odisha. Climate Change 153: 141-164. doi.org/10.1007/s10584-018-02364-8

Parthasarathy, R., Rao, V., & Palaniswamy, N. (2019). Deliberative Democracy in an Unequal World: A Text-As-Data Study of South India's Village Assemblies. American Political Science Review, 113(3), 623-640. doi:10.1017/S0003055419000182

Sanyal, P., & Rao, V. (Eds.). (2018). Oral Democracy: Deliberation in Indian Village Assemblies. Cambridge University Press, Cambridge, UK

Mansuri, G., & Rao, V. (2013). Localizing Development : Does Participation Work? Policy Research Report. The World Bank, Washington DC. https://openknowledge.worldbank.org/handle/10986/11859

Bloch, F. & Rao, V. (2002) Terror as a Bargaining Instrument: A Case Study of Dowry Violence in Rural India. American Economic Review, 92 (4): 1029-1043. DOI: 10.1257/00028280260344588
CIFAR is a registered charitable organization supported by the governments of Canada, Alberta and Quebec, as well as foundations, individuals, corporations and Canadian and international partner organizations.