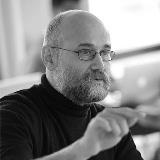 Appointment
Innovation, Equity, & The Future of Prosperity
About
Yochai Benkler studies how technology and institutions interact to shape social relations.
His research has long explored how technologies associated with the Internet shape power and freedom in society.  In particular, he has looked at the interaction between market and nonmarket models of human motivation and organization, and how these interact to determine the distribution of political, economic, and cultural power in society.
His present studies include both large scale data science analysis of propaganda and disinformation online and theoretical and qualitative empirical analysis of how institutions and technology have interacted in the rise of economic inequality since the 1970s.  Specific current questions include whether it would be an appropriate policy goal to nudge robotics towards labor-complementing, rather than labor-displacing paths; to govern platforms and AI specifically aiming toward distributive goals and democratic accountability, and to integrate technology, labor, and climate policy.
Awards
Oxford Internet Institute Lifetime Achievement Award 2012
Ford Foundation Visionaries Award, 2012
American Sociological Association: CITASA Award (best book related to sociology of communications or information technology) for Wealth of Networks, 2008
American Political Science Association: Don K. Price Award (best book on science, technology, and politics) for Wealth of Networks, 2007
Donald McGannon Award, Donald McGannon Communications Research Center, Fordham (best book on social and ethical relevance in communications policy research,) for Wealth of Networks, 2006
Relevant Publications
Benkler, Y., Faris, R. and Roberts., H. (2018) Network Propaganda: Manipulation, Disinformation, and Radicalization in American Politics. Oxford University Press

"Network Pragmatism: Towards an Open Social Economy," in Towards a Participatory Society: New Roads to Social and Cultural Integration, ed. M. Archer, P. Donati, and M. Sánchez Sorondo (2017)

"Law, Innovation and Collaboration in the Networked Economy and Society," Annual Rev. of Law & Social Science, 13 231-250 (2017)

"Open Access and Information Commons," Oxford Handbook of Law and Economics: Private and Commercial Law, Francesco Parisi, ed. (2016)

"Degrees of Freedom, Dimensions of Power," Daedalus, 145(1) 18-32 (2016)
CIFAR is a registered charitable organization supported by the governments of Canada, Alberta and Quebec, as well as foundations, individuals, corporations and Canadian and international partner organizations.