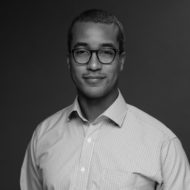 Appointment
CIFAR Azrieli Global Scholars 2022-2024
About
The Al Balushi Research Group focuses on electronic materials synthesis of thin films (compound semiconductors heterostructures, quantum materials, etc.) and nanostructures (2D materials, nanowires, quantum dots, etc.) using a variety of chemical vapor deposition (CVD) techniques. They are interested in creating novel scalable crystal growth, processing and integration schemes of emerging materials for microelectronics and photonic devices as well as emerging quantum technologies. In addition, the group focuses on developing novel in situ growth platforms to study proximity effects in quantum materials heterostructures as well as advancing the capabilities of in situ optical probes that will ultimately aid in the discovery of metastable quantum materials with unique quantum states and investigate their structures and properties for future device applications.
Awards
National Science Foundation CAREER Award, 2022
Society of Hellman Fellows, 2021
SK Hynix Faculty Fellow, 2020
Resnick Prize Postdoctoral Research Fellowship, 2017
Rustum and Della Roy Innovation in Materials Research Award, 2017
Relevant Publications
Al Balushi, Z. Y., Wang, K., Ghosh, R. K., Vilá, R. A., Eichfeld, S. M., Caldwell, J. D., ... & Robinson, J. A. (2016). Two-dimensional gallium nitride realized via graphene encapsulation. Nature Materials, 15(11), 1166-1171.
CIFAR is a registered charitable organization supported by the governments of Canada, Alberta and Quebec, as well as foundations, individuals, corporations and Canadian and international partner organizations.