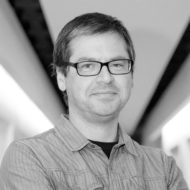 Appointment
Fellow
Canada CIFAR AI Chair
Learning in Machines & Brains
Pan-Canadian AI Strategy
About
Aaron Courville is a Canada CIFAR AI Chair at Mila, a CIFAR fellow of the Learning in Machines and Brains program, and an associate professor in the Department of Computer Science and Operations Research (DIRO) at Université de Montréal.
Courville is a computer scientist whose current research focuses on the development of deep learning models and methods. He is particularly interested in developing probabilistic models and novel inference methods. While he has mainly focused on applications to computer vision, he is also interested in other domains such as natural language processing, audio signal processing, speech understanding and just about any other artificial-intelligence-related task.
Awards
Winning Team Member of the Transfer Learning Challenge, ICML Workshop, 2011
Winning Team Member of the Unsupervised and Transfer Learning Challenge Phase II, NIPS, 2011
Relevant Publications
Gulrajani, I., Ahmed, F., Arjovsky, M., Dumoulin, V., & Courville, A. (2017). Improved training of wasserstein gans.

Goodfellow, I., Bengio, Y., & Courville, A. (2016). Deep learning. MIT press.

Xu, K., Ba, J., Kiros, R., Cho, K., Courville, A., Salakhudinov, R., … & Bengio, Y. (2015). Show, attend and tell: Neural image caption generation with visual attention. In International conference on machine learning (pp. 2048-2057). PMLR.

Bengio, Y., Courville, A., & Vincent, P. (2013). Representation learning: A review and new perspectives. IEEE transactions on pattern analysis and machine intelligence, 35(8), 1798-1828.

Erhan, D., Courville, A., Bengio, Y., & Vincent, P. (2010). Why does unsupervised pre-training help deep learning?. In Proceedings of the thirteenth international conference on artificial intelligence and statistics (pp. 201-208). JMLR Workshop and Conference Proceedings.
CIFAR is a registered charitable organization supported by the governments of Canada, Alberta and Quebec, as well as foundations, individuals, corporations and Canadian and international partner organizations.