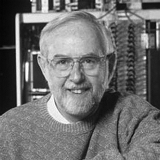 Appointment
Gravity & the Extreme Universe
About
Arthur McDonald is a particle physicist whose current work seeks to further our understanding of neutrinos.
The addition of tellurium to the scintillator in the newly configured SNO+ detector should allow the study of neutrinoless double beta decay, giving important insights into whether neutrinos serve as their own antiparticles and perhaps providing a measure of the absolute mass of neutrinos. McDonald is also participating in the DEAP-3600 experiment, a new argon-based dark matter detector to be constructed in SNOLAB and predicted to be 10 times more sensitive than current measurements.
Awards
Companion of the Order of Canada, 2016
Breakthrough Prize in Fundamental (with the SNO Collaboration), 2016
Nobel Laureate in Physics, 2015
Officer of the Order of Canada, 2006
Gerhard Herzberg Canada Gold Medal for Science and Engineering, 2003
Fellow of the Royal Society of Canada, 1997
Fellow of the Royal Society of London, 1997
Relevant Publications
Ahmad, Q.R. et al. "Direct evidence for neutrino flavor transformation from neutral-current interactions in the Sudbury Neutrino Observatory." Phys. Rev. Lett. 89, no. 1 (June 2002): 011301.
CIFAR is a registered charitable organization supported by the governments of Canada, Alberta and Quebec, as well as foundations, individuals, corporations and Canadian and international partner organizations.