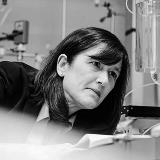 Appointment
Earth 4D: Subsurface Science & Exploration
About
Barbara Sherwood Lollar, CC has published on stable isotope geochemistry and hydrogeology, the fate of carbon-bearing fluids and gases such as CO2, CH4 and H2 in ancient fracture waters in the Earth's crust, deep subsurface microbiology, and the remediation of surface drinking water supplies.
Barbara Sherwood Lollar is a University Professor in Earth Sciences at the University of Toronto, a Canada Research Chair in Isotopes of the Earth and Environment, and Dr. Norman Keevil Chair. She is also Past-President of the Geochemical Society
A recognized leader, Sherwood Lollar has served on many advisory boards including NSERC Council, the United States National Academy of Sciences Space Studies Board, the Honors and Recognition Committee for the American Geophysical Union, and Royal Society (London) Sectional Committee in Earth and Environmental Sciences. She was Chair of the 2018 United States National Academy of Sciences "Strategy for Astrobiology and the Search for Life in the Universe" and is a member of the NAS Space Studies Board (2016-2022).
Awards
Canada Council for the Arts - Killam Prize for Natural Sciences, 2020
NSERC Gerhard Herzberg Gold Medal, 2019
Fellow of the Royal Society London, 2019
NSERC John C. Polanyi Award, 2016
Eni Award, 2012
Relevant Publications
Lamarche-Gagnon, G., J.L. Wadham, B. Sherwood Lollar, S. Arndt, P. Fietzek, A.D. Beaton, A.J. Tedstone, J. Telling, E.A. Bagshaw, J.R. Hawkings, T.J. Kohler, J.D. Karsky, M.C. Mowlem and M. Stibel. "Continuous pulsed export of methane supersaturated runoff from the Greenland Ice Sheet." Nature (2019, January 3).

Li, L., B.A. Wing, T.H. Bui, J.M. McDermott, G.F. Slater, S. Wei, G. Lacrampe-Couloume and B. Sherwood Lollar. "Sulfur mass-independent fractionation in subsurface fracture waters indicates a long-standing sulfur cycle in Precambrian rocks." Nature Communications 7 (2016).

Wang, D.T., D.S. Gruen, B. Sherwood Lollar, et al. "Unique non-equilibrium clumped isotope signals in microbial methane." Science 348 (2015): 428-431.

Sherwood Lollar, B., T.C. Onstott, G. Lacrampe-Couloume and C.J. Ballentine. "The global production of hydrogen from the Precambrian lithosphere. Nature (2014).

Sherwood Lollar, B., T. Westgate, J. Ward, G.F. Slater and G. Lacrampe-Couloume. "Abiogenic formation of alkanes in the Earth's crust as a minor source for global hydrocarbon reservoirs." Nature 416 (2002): 522-524.
CIFAR is a registered charitable organization supported by the governments of Canada, Alberta and Quebec, as well as foundations, individuals, corporations and Canadian and international partner organizations.