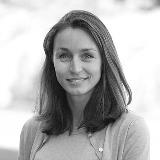 Appointment
CIFAR Azrieli Global Scholar 2019-2021
Alan Bernstein Fellow
About
Carolina Tropini combines cutting-edge experimental and computational techniques to study how the physical environment affects the microbiota from the subcellular to the organismal level, and to determine the mechanisms of transmission of bacteria between hosts in health and disease.
Every ecosystem is embedded within its physical environment. The human gut is composed of a wide range of environments that vary in physical parameters due to physiology and disease. Factors such as acidity, water availability, or temperature vary along the length of the gut and are modified by illness. The human gut is also home to a vibrant community, with trillions of bacteria, fungi and viruses that live within us, collectively termed our gut microbiota.
We know our gut microbiota has high specificity for environmental niches, but we don't understand the rules for its preference, nor can we predict where microbes will be able to thrive or succumb. Our goal is to bridge this gap, and to develop a deep understanding of how our microbiota responds to the physical perturbations that occur during colonization, disease and dispersion.
Awards
Michael Smith Foundation for Health Research Scholar Award, 2019
James S. McDonnell Foundation Postdoctoral Fellowship Award, 2014
Stanford Bio-X Interdisciplinary Graduate Fellowship - Bruce and Elizabeth Dunlevie, 2011
Stanford Graduate Fellowship, 2008
Relevant Publications
C. Tropini, E. L. Moss, K. Ng, S. K. Higginbottom, E. P. Casavant, C. G. Gonzales, B. Fremin, J. E. Elias, K. C. Huang, A. S. Bhatt, and J. L. Sonnenburg. "Transient osmotic perturbation causes long-term alteration to the gut microbiota". 173(7):1742-1754, June 2018, Cell.

C. Tropini*, K. Earle*, K. C. Huang, J. L. Sonnenburg. "The Gut Microbiome: Connecting Spatial Organization to Function. 21:433–442, April 2017. Cell Host and Microbe.

B. A. Krajina, C. Tropini, A. Zhu, P. DiGiacomo, J. L. Sonnenburg, S. C. Heilshorn, and A. J. Spakowitz. "Dynamic light scattering microrheology reveals multi-scale viscoelasticity of polymer gels and precious biological materials". 10.1021/acscentsci.7b00449, December 2017. ACS Central Science.

C. Tropini, T. K. Lee, J. Hsin, S. Desmarais, T. Ursell, R. Monds, K. C. Huang. "General principles of bacterial cell-size determination revealed by heterologous expression of cell wall synthesis machinery and chemical perturbations". Vol. 9, 1520-1527. November 2014. Cell Reports.

C. Tropini, N. Rabbani and K. C. Huang. "Physical constraints on the establishment of intracellular spatial gradients in bacteria". Vol. 5(1), 17, August 2012, BMC Biophysics.
CIFAR is a registered charitable organization supported by the governments of Canada, Alberta and Quebec, as well as foundations, individuals, corporations and Canadian and international partner organizations.