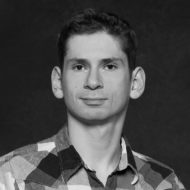 About
Dzmitry Bahdanau is a Canada CIFAR AI Chair at Mila, an adjunct professor at the School of Computer Science at McGill University, and a research scientist at ServiceNow Element AI.
Bahdanau's research goal is to further the adoption and widespread use of language user interfaces for human-computer interaction. His research seeks to align ideas from the disciplines of deep learning, linguistic, and symbolic AI. Topics of key interest to Bahdanau include semantic parsing and task-oriented dialogue models, in particular making such models generalize more systematically, perform effectively with less training data and be easily adaptable to new domains.
Relevant Publications
Hosseini, A., Reddy, S., Bahdanau, D., Hjelm, R. D., Sordoni, A., & Courville, A. (2021). Understanding by Understanding Not: Modeling Negation in Language Models.

Bergen, L., Bahdanau, D., & O'Donnell, T. J. (2021). Jointly Learning Truth-Conditional Denotations and Groundings using Parallel Attention.

Scholak, T., Li, R., Bahdanau, D., de Vries, H., & Pal, C. (2020). DuoRAT: Towards Simpler Text-to-SQL Models.

Hui, D. Y. T., Chevalier-Boisvert, M., Bahdanau, D., & Bengio, Y. (2020). BabyAI 1.1.

Żołna, K., Saharia, C., Boussioux, L., Hui, D. Y. T., Chevalier-Boisvert, M., Bahdanau, D., & Bengio, Y. (2020). Combating False Negatives in Adversarial Imitation Learning (Student Abstract). In Proceedings of the AAAI Conference on Artificial Intelligence (Vol. 34, No. 10, pp. 13999-14000).
CIFAR is a registered charitable organization supported by the governments of Canada, Alberta and Quebec, as well as foundations, individuals, corporations and Canadian and international partner organizations.