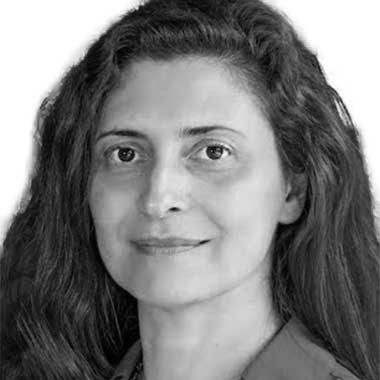 About
Irina Rish is a Canada CIFAR AI Chair at Mila and an associate professor at the Department of Computer Science and Operations Research (DIRO) at the University of Montreal. She holds the Canada Excellence Research Chair in Autonomous AI.
Rish's research focus is on machine learning, neural data analysis and neuroscience-inspired AI. Her current research interests include continual lifelong learning, optimization algorithms for deep neural networks, sparse modelling and probabilistic inference, dialog generation, biologically plausible reinforcement learning, and dynamical systems approaches to brain imaging analysis.
Awards
IBM Eminence & Excellence Award, 2018
IBM Outstanding Innovation Award, 2018
IBM Outstanding Technical Achievement Award, 2017
IBM 10th Invention Plateau Award (63 Granted Patents), 2015
Best Paper Award, ECML, 2003
Relevant Publications
Bashivan, P., Rish, I., Yeasin, M., & Codella, N. (2015). Learning representations from EEG with deep recurrent-convolutional neural networks.

Rish, I., Brodie, M., Ma, S., Odintsova, N., Beygelzimer, A., Grabarnik, G., & Hernandez, K. (2005). Adaptive diagnosis in distributed systems. IEEE Transactions on neural networks, 16(5), 1088-1109.

Sahoo, R. K., Oliner, A. J., Rish, I., Gupta, M., Moreira, J. E., Ma, S., … & Sivasubramaniam, A. (2003). Critical event prediction for proactive management in large-scale computer clusters. In Proceedings of the ninth ACM SIGKDD international conference on Knowledge discovery and data mining (pp. 426-435).

Dechter, R., & Rish, I. (2003). Mini-buckets: A general scheme for bounded inference. Journal of the ACM (JACM), 50(2), 107-153.

Rish, I. (2001). An empirical study of the naive Bayes classifier. In IJCAI 2001 workshop on empirical methods in artificial intelligence (Vol. 3, No. 22, pp. 41-46).
CIFAR is a registered charitable organization supported by the governments of Canada, Alberta and Quebec, as well as foundations, individuals, corporations and Canadian and international partner organizations.