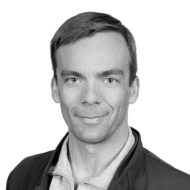 About
Jacob Jaremko is a clinician-scientist, currently an associate professor in the Faculty of Medicine at the University of Alberta, a practicing Pediatric and Musculoskeletal Radiologist and partner at Medical Imaging Consultants, and co-founder of MEDO.ai. His research has focused on the influence of anatomy & childhood development of joints on the development of adult osteoarthritis. Seeking to develop objective imaging biomarkers of disease, he has generated 3D ultrasound tools for assessment of infant hip dysplasia, and semi-quantitative MRI scoring systems for arthritis.
Medical images are becoming easier to acquire than to interpret reliably. Dr. Jaremko is now focused on automating medical image analysis, particularly in ultrasound, using artificial intelligence. Tools from natural image and video processing can be adapted to medical image analysis, with special attention to problems such as small training data sets and extreme class imbalance. A handheld ultrasound probe with AI image interpretation could ultimately be used by clinicians at any point of care — becoming the 21st-century stethoscope.
Dr. Jaremko also has a strong interest in ethical issues around AI, particularly data privacy.
Awards
Canadian Association of Radiologists Young Investigator Award, 2018
Canadian Association of Radiologists Young Investigator Award, 2018
Journées Francophones de Radiologie Canadian Rising Star Award, 2018
CIFAR is a registered charitable organization supported by the governments of Canada, Alberta and Quebec, as well as foundations, individuals, corporations and Canadian and international partner organizations.