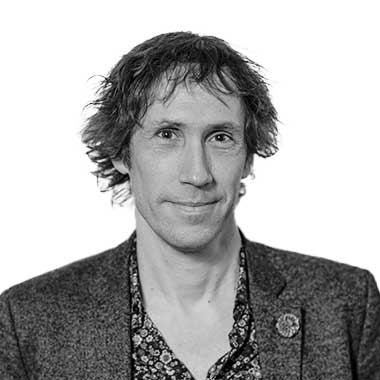 About
Kevin Leyton-Brown is a Canada CIFAR AI Chair at Amii, and a professor of Computer Science at the University of British Columbia. He is the Director of the Centre for Artificial Intelligence Decision-Making and Action at UBC's Institute for Computing, Information and Cognitive Systems. Leyton-Brown acts as an advisor to AI21 Labs and Auctionomics and has co-founded two companies: Kudu.ug and Meta-Algorithmic Technologies.
Leyton-Brown conducts research in the areas of computational game theory; market design, analysis and clearing; and machine learning for optimization. His work in game theory develops computational techniques for replacing pen-and-paper methods for analyzing strategic behaviour. He also develops general techniques for designing algorithms that are fast in practice on provably hard optimization problems. 
Leyton-Brown is a leader in using machine learning methods to characterize algorithm performance, producing the world's fastest satisfiability solvers and clearing algorithms that have had a wide impact in electronic commerce companies and government.
Awards
Distinguished Scholar Award, UBC, 2021
Amazon Research Award, Amazon Research, 2021
Facebook Research Award, 2018
Google Faculty Research Award, 2013
ACM-EC Best Student Paper Award, 2012
Relevant Publications
Thornton, C., Hutter, F., Hoos, H. H., & Leyton-Brown, K. (2013). Auto-WEKA: Combined selection and hyperparameter optimization of classification algorithms. In Proceedings of the 19th ACM SIGKDD international conference on Knowledge discovery and data mining (pp. 847-855).

Hutter, F., Hoos, H. H., & Leyton-Brown, K. (2011). Sequential model-based optimization for general algorithm configuration. In International conference on learning and intelligent optimization (pp. 507-523). Springer, Berlin, Heidelberg.

Hutter, F., Hoos, H. H., Leyton-Brown, K., & Stützle, T. (2009). ParamILS: an automatic algorithm configuration framework. Journal of Artificial Intelligence Research, 36, 267-306.

Shoham, Y., & Leyton-Brown, K. (2008). Multiagent systems: Algorithmic, game-theoretic, and logical foundations. Cambridge University Press.

Xu, L., Hutter, F., Hoos, H. H., & Leyton-Brown, K. (2008). SATzilla: portfolio-based algorithm selection for SAT. Journal of artificial intelligence research, 32, 565-606.
CIFAR is a registered charitable organization supported by the governments of Canada, Alberta and Quebec, as well as foundations, individuals, corporations and Canadian and international partner organizations.