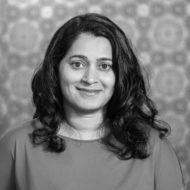 Appointment
Canada CIFAR AI Chair
National Program Committee member
About
Nidhi Hegde is a Canada CIFAR AI Chair and a fellow at Amii. She is an associate professor in the Department of Computing Science at the University of Alberta. 
Hegde's research focuses on a fundamental understanding of privacy and fairness in machine learning algorithms and systems, and the design of privacy-preserving and fair algorithms. She is  interested in the generation of private synthetic data, privacy-preserving sequential sharing of data, the understanding of privacy in the context of sequential and non-independent data, and the understanding of potential tradeoffs between privacy and fairness.
Relevant Publications
Wang, B., & Hegde, N. (2019). Privacy-preserving q-learning with functional noise in continuous spaces. In Advances in Neural Information Processing Systems (pp. 11327-11337).

Mukhopadhyay, A., Hegde, N., & Lelarge, M. (2019). Asymptotics of Replication and Matching in Large Caching Systems. IEEE/ACM Transactions on Networking, 27(4), 1657-1668.

Cecchi, F., & Hegde, N. (2017). Adaptive active hypothesis testing under limited information. In Advances in Neural Information Processing Systems (pp. 4035-4043).

Banerjee, S., Hegde, N., & Massoulié, L. (2015). The price of privacy in untrusted recommender systems. IEEE Journal of Selected Topics in Signal Processing, 9(7), 1319-1331.

van de Ven, P. M., Hegde, N., Massoulié, L., & Salonidis, T. (2013). Optimal control of end-user energy storage. IEEE Transactions on Smart Grid, 4(2), 789-797.
CIFAR is a registered charitable organization supported by the governments of Canada, Alberta and Quebec, as well as foundations, individuals, corporations and Canadian and international partner organizations.