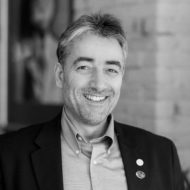 About
Osmar Zaïane is a Canada CIFAR AI Chair, a fellow at Amii, and a professor at the University of Alberta's Department of Computing Science. 
Zaïane  focuses on pattern discovery and information extraction from large databases, also known as data mining. His work involves data mining from disparate heterogeneous data sources, such as on the Internet, as well as the analysis of complex information networks, also known as social network analysis. He focuses on building applications that can improve decision making in fields from business to medicine, allowing decisions to be based on data and data analysis. Through the application of machine learning and methods of knowledge discovery, he devises ways to personalize applications, automate processes and improve upon current data science practices.
Awards
Best Paper Award, the International Conference on Intelligence Text Processing and Computational Linguistics, 2019
Great Supervisor Award, University of Alberta, 2018
Best Paper Award, the International Conference on Database and Expert Systems Applications, 2018
Outstanding Paper Award, 5th International Conference on Educational Technologies, 2017
Best Paper Award, the International Conference on Brain Informatics, 2017
Best Paper Award, the IEEE International Conferences on Digital Economy, 2016
Best Paper Award, 13th International Conference on Hybrid Intelligent Systems, 2013
ACM – SGKDD Service Award, 2010
ACM – SGKDD Service Award, 2010
IEEE – ICDM Outstanding Service Award, 2009
McCalla Research Professorship, 2008
Relevant Publications
Jiang, H., Cao, P., Xu, M., Yang, J., & Zaïane, O. (2020). Hi-GCN: A hierarchical graph convolution network for graph embedding learning of brain network and brain disorders prediction. Computers in Biology and Medicine, 127, 104096.

Gharaghooshi, S. Z., Zaïane, O. R., Largeron, C., Zafarmand, M., & Liu, C. (2020). Addressing the resolution limit and the field of view limit in community mining. In International Symposium on Intelligent Data Analysis (pp. 210-222). Springer, Cham.

Bellinger, C., Sharma, S., Japkowicz, N., & Zaïane, O. R. (2019). Framework for extreme imbalance classification: SWIM—Sampling with the majority class. Knowledge and Information Systems, 1-26.

Farruque, N., Zaïane, O., & Goebel, R. (2019). Augmenting Semantic Representation of Depressive Language: From Forums to Microblogs. In Joint European Conference on Machine Learning and Knowledge Discovery in Databases (pp. 359-375). Springer, Cham.

Huang, C., Zaïane, O. R., Trabelsi, A., & Dziri, N. (2018). Automatic dialogue generation with expressed emotions. In Proceedings of the 2018 Conference of the North American Chapter of the Association for Computational Linguistics: Human Language Technologies, Volume 2 (Short Papers) (pp. 49-54).
CIFAR is a registered charitable organization supported by the governments of Canada, Alberta and Quebec, as well as foundations, individuals, corporations and Canadian and international partner organizations.