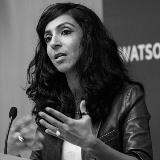 Appointment
Boundaries Membership & Belonging
Successful Societies
About
Prerna Singh is Mahatma Gandhi Associate Professor of Political Science and International Studies at Brown University. She holds appointments across Political Science and the Watson Institute for International and Public Affairs, and an affiliation with the Department of Sociology.  Singh sits on the board of the Harvard-Yenching Institute, the steering committee of the Center for Contemporary South Asia at Brown, is a fellow of the Canadian Institute for Advanced Research and  co-convenes the Brown-Harvard-MIT  Joint Seminar  in South  Asian Politics. She has studied at Princeton, Cambridge and Delhi Universities, and taught previously at Harvard University.
Singh has published numerous  award-winning  books and  articles  on questions of human development, ethnicity and nationalism. Her first book, How Solidarity Works for Welfare was awarded best book prizes from both the American Political Science and the American Sociological Associations. Singh has received the 'brainy award' from the Andrew Carnegie foundation,  the Berlin  prize  from the American  Academy of Berlin, as well as fellowships from American Institute of Indian Studies, Princeton University, the Harvard Academy for International and Area Studies and  the University of Pennsylvania. Singh has shared her research with scholarly, policy and popular audiences across twenty different countries. Singh is presently working on two trade books — Embracing Nationalism and Our India, and a scholarly book, Embedded Interventions: Ideas, Institutions and the Control of Contagion in China and India.
CIFAR is a registered charitable organization supported by the governments of Canada, Alberta and Quebec, as well as foundations, individuals, corporations and Canadian and international partner organizations.