Chemistry is one of humanity's oldest scientific pursuits, while quantum computing and AI are emerging and potentially world-changing fields. Mixing them together is what leads to disruptive innovation.
Alán Aspuru-Guzik is charting a new course for innovation in robotics, renewable energy and AI through his research at the interfaces of quantum information, chemistry and machine learning.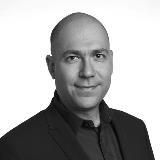 Alán Aspuru-Guzik is a Lebovic Fellow in CIFAR's Bio-Inspired Solar Energy program, a Canada CIFAR AI Chair at the Vector Institute, a Massey Fellow, and a professor at the department of chemistry and computer science at the University of Toronto, where he directs the Acceleration Consortium, building self-driving labs that combine material science with the power of artificial intelligence, robotics, and advanced computing including quantum to rapidly design and test new materials and molecules.
Adding to discussion are Massey junior fellows Alec Krawciw, Aditi Maheshwari, and Alexandra Martin.
Alec Krawciw is starting his Master of Applied Science in Aerospace Engineering. His research will focus on using AI to improve the long-term navigation of autonomous vehicles. Alex is originally from Victoria BC and completed his undergrad in Mechanical and Software Engineering at the University of Victoria. In the future, he hopes to apply his research to the next generation of Canadian space exploration vehicles.
Aditi Maheshwari is currently pursuing a research masters in Computer Engineering. She completed her undergraduate degree in Engineering Science where she majored in Robotics with an AI minor. Being a life-long learner, she enjoys taking part in social impact design challenges that motivate her to expand her knowledge and skill set. Aditi's future goals are to broaden her understanding of interdisciplinary problems and use her strengths for untapped developments that positively advance society.
Alexandra Martin is a Ph.D. student in the Department of Political Science whose research is focused on the development of a genealogy of 'explainability' in the governance of AI systems in the Euro-Atlantic context. Professionally, she serves as a Policy Analyst with the federal government's Artificial Intelligence Hub where she has supported citizen deliberations on AI ethics and participated in negotiations for the formation of the Global Partnership on AI, an initiative by the G7 and OECD.