CIFAR Neuroscience of Consciousness Winter School

Dates for next year's CIFAR Neuroscience of Consciousness Winter School will be announced in the coming months
The CIFAR Neuroscience of Consciousness Winter School is a unique, three-day event where tomorrow's neuroscience leaders work closely with world-class researchers studying the neuroscience of consciousness. Hosted by members of CIFAR's Brain, Mind & Consciousness program, this year's event is held virtually.

Participants will:
Engage in interactive lectures from top scientists

Network with peers and world-renowned scientists

Participate in immersive workshops on science communication — from presentation skills to effective grant writing

Explore diverse perspectives on consciousness including: neuroimaging/biomarkers, philosophy, computational approaches, and animal models.
Interested applicants must be senior (third year or later) PhD students, or post-docs. Applicants are required to submit a CV as well as a 500-word discussion of their research that details how the winter school would benefit their future scientific careers.

SELECTION
Applications are reviewed internally for basic eligibility before being assessed by members of the Brain, Mind & Consciousness program. Applicants are evaluated based on their research statement, track record, and connection to the neuroscience of consciousness.
CIFAR is committed to creating a more diverse, equitable, and inclusive environment and research community. We welcome proposals from countries and institutions from across the globe.

Nancy Kanwisher
Advisory Committee Chair
Brain, Mind & Consciousness
Massachusetts Institute of Technology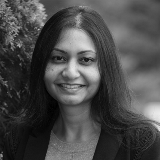 Lucina Q. Uddin
CIFAR Azrieli Global Scholar 2018-2020
Brain, Mind & Consciousness
University of California Los Angeles
CIFAR is a registered charitable organization supported by the governments of Canada, Alberta and Quebec, as well as foundations, individuals, corporations and Canadian and international partner organizations.